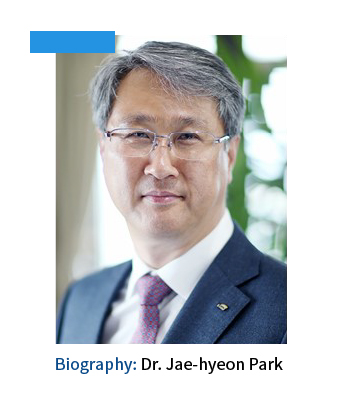 Dr. Jae-hyeon Park is the President of the Asia Water Council and the 15th CEO of K-water.

Having spent more than 25 years as a water expert and practitioner, Dr. Park has accomplished valuable achievements based on his empirical research works and experiments. He published a number of academic papers on the soil loss rate assessment of vegetation mat measures, hydrodynamic and water quality modeling for gate operation, utilization of the outflowing groundwater resources in an underpass structure, damage process of intact granite under uniaxial compression (microscopic observation and contact stress analysis of grains), and the changes of permeability characteristics dependent on damage process in grans etc. Moreover, he has developed the actual experimental equipment and stimulators which led him to obtain several patent.

Since 2000, he has worked as a professor of civil and urban engineering in Inje University (Republic of Korea). In 2016, Dr. Park was enlisted in the Marquis Who's Who Dictionary with the recognition of his research outcomes, patent achievements, and active participation in numerous NGO and CSR activities.

Currently, Dr. Park is keen to water issues related to climate change, integrated water resources management, sustainable development, and innovative and eco-friendly technologies that will enable efficient water supply and protection.

Dr. Park holds a Ph.D in hydraulic engineering from Seoul National University, and worked as a post-doctoral research at the MIT in 1998. He is a member of the Korea Water Resources Association and Korean Society of Civil Engineers.
Professional Experience
2020. 2 ~

President of Asia Water Council

2020. 2 ~

The 15th CEO of K-water

2013. 3 ~

Chief of Groundwater Division, Korea Water Resources Association

2009. 2 ~ 2011. 1

Chair of the Admission Office, Inje University

2006. 9 ~ 2007. 8

Visiting Scholar, U.C. Davis, California, USA

2004. 3 ~ 2006. 2

Vice Dean, Dept. of Engineering, Inje University

2000. 3 ~ 2020. 2

Professor, Dept. of Civil and Urban Engineering, Inje University