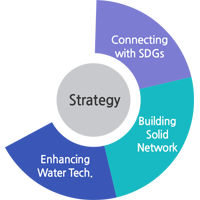 STRATEGY
1. The Council is to respond to the water goals in Sustainable Development Goals in Asia.
2. The council is to provide a platform in which all stakeholders related to Asian water establish a cooperative network to address water challenges.
3. The council is to adopt SWMI(Smart Water Management Initiative) to provide appropriate solutions to each region in Asia.