Asian Water High-level Round Table
Background
Need for International entity to address Asian water problems to high-levels in Asia
Goals
Develop consensus and sustainable network in order to seek solutions of Asia water Problems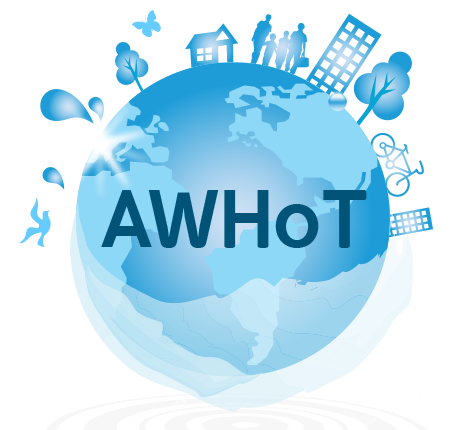 Target 1
Enhancing mutual understanding for water issues and solutions
Target 2
Building a sustainable multilateral partnership
Target 3
Forming a regional consensus to contribute to the 7th World Water Forum
Participants
31 organizations from International organizations, MDBs, Asian Governments, Public organizations, Research Institutes, etc.
Main activities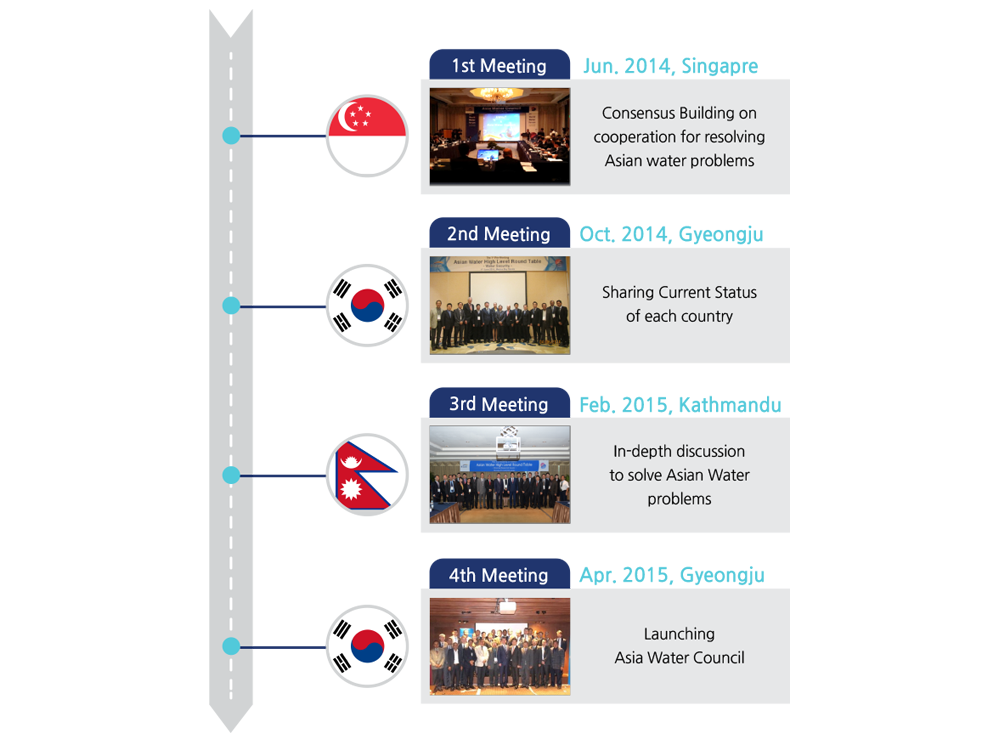 Outcome (AWHoT Report) "Insight into Asian Water"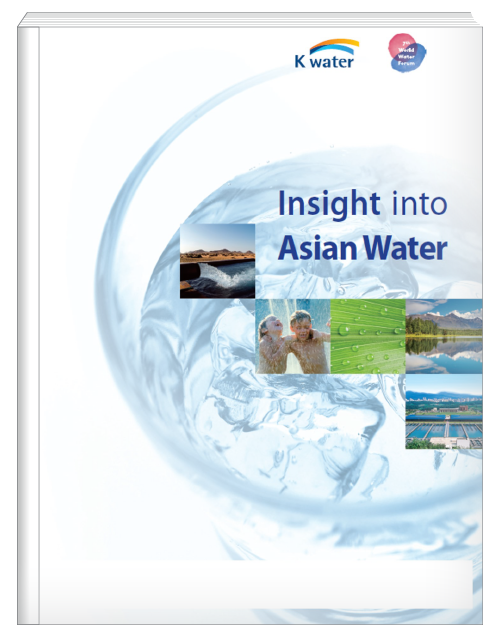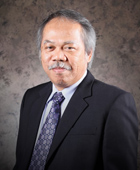 Dr. Ir. M. Basuki Hadimoeljono,
MSc. Minister for Public Works and Public Housing of Indonesia
I welcome the launch of publication, 'Insight into Asian Water'. I hope it will be the pioneer of information dealing with challenges and strategies as well as business and technology in the field of water resource management in Asia. We all know water is an essential life-sustaining resource whose existence and availability for human use are often taken for granted. It is often utilized by people who are unaware of where the water originated and what happens to the water following use. We all also know we live at a moment of information overload, when there is arguably more and better news coverage than ever before. I believe Insight into Asian Water will provide the most current information dealing with sustainable solutions that help manage water resource on municipal, industrial, commercial, and private lands. Hopefully, Insight into Asian Water will provoke us, inspire us, and offer us both perspective and punditry. It makes the subject of water, water resources, and water's interactions in the environment understandable, approachable, and relevant to a wide range. Finally, I hope the account of some experiences which are shared across, will help others facing similar challenges. Perhaps from the story of some countries, and from the guidelines they commit with, some other countries may find clues that will help them to learn and to deal with the similar issues.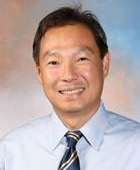 Mr. Peter Joo Hee Ng
Deputy Secretary, Ministry of Environment and Water Resources, Singapore
"At Singapore's independence 50 years ago, floods, droughts, polluted waterways and water rationing were commonplace. Today, two-thirds of Singapore is water catchment, and used water is collected, treated and returned as potable water. Today, Singapore is a world leader in water husbandry and Singaporean water companies bring class leading capabilities to the global marketplace. By supplying good water, reclaiming used water and taming stormwater, we in PUB, Singapore's national water agency, make everyday life possible, and a successful and prosperous Singapore a reality. I am grateful to the World Water Forum for allowing us to share Singapore's water story."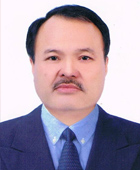 Dr. Khammany INTHIRATH,
Vice Minister of Ministry of Energy and Mines, Lao PDR
This paper aims to describe the historical and current status of the water resources, water development and management in Laos PDR. Naturally, Lao PDR is a country with abundant water resources by virtue of topography and rainfall. Since it is bounded by countries and out of thetidalreachof the South China Sea, these are all fresh water resources. Indeed, a commonly quoted fact is that the country has one of the highest per capita freshwater figures in the world and is undeniablythe largestcontributorof water to the Mekong River amongst the riparian countries.The totalwater availableis 270 billionm3/year (assuming no obligation to downstream countries) of which 5.7billionm3/year is the total water developed, accounting for 15.7 per cent. With rich of water resources combine with good situation of the topography and right policy of the government to be electricity hub of the region, Laos become a hot spot for hydropower development by the investor from around the world.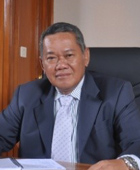 Herman Idrus, President Director,
Jasa Tirta II Public Corporation
"At Singapore's independence 50 years ago, floods, droughts, polluted waterways and water rationing were commonplace. Today, two-thirds of Singapore is water catchment, and used water is collected, treated and returned as potable water. Today, Singapore is a world leader in water husbandry and Singaporean water companies bring class leading capabilities to the global marketplace. By supplying good water, reclaiming used water and taming stormwater, we in PUB, Singapore's national water agency, make everyday life possible, and a successful and prosperous Singapore a reality. I am grateful to the World Water Forum for allowing us to share Singapore's water story."
Outcome (Establish agenda for Asian Water)
Infrastructure & Financing
Aral Sea
Mekong River
Water & Energy Nexus
Water Supply & Sanitation
Chinese Taipei, JWA

World Bank
ADB
KOICA
KEXIM
USACE
Uzbekistan

UNESCO
Samruk Energy
KEXIM
PNSIC
MRC

Vietnam
Cambodia
GWP
Nepal

Laos
APWF
IWHR(China)
Indonesia
K-water
PUB, TMSI

Thailand
ADB
Hong Kong
PJTⅡ, Deltares